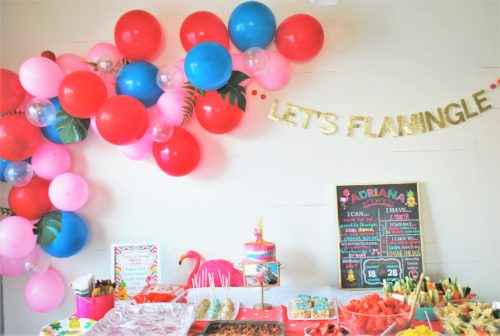 My daughter was turning one and having had two boys previously I wanted to do something girly, fun and chic.  I have always had my heart set on pink and gold for the colors, but wasn't sure what the theme was going to be.  Her birthday is in July which means we will be having water toys involved for the kids so it needed to have a summer feel.
I saw my friend had done a flamingo party years back and instantly fell in love.  I was able to borrow a lot of the decor from her, but coincidentally was able to get almost everything else from the Target dollar section.  This made my wallet very happy!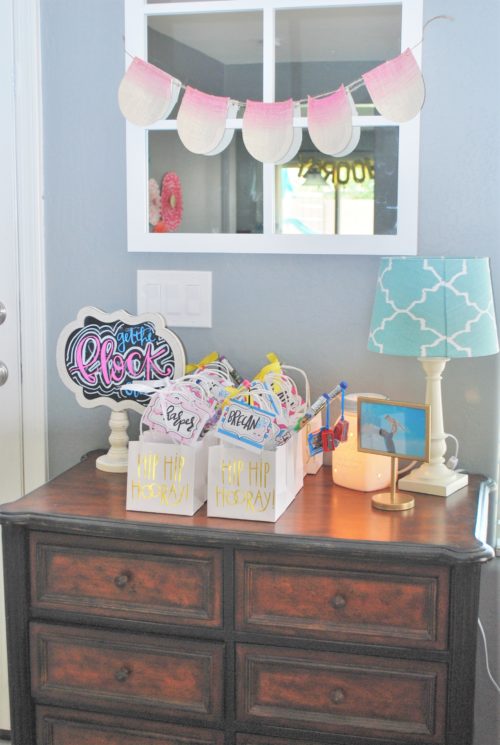 Most of the Flamingo themed stuff was accompanied by pineapples and I instantly fell in love with the color palette.  This is my first child to have a 1st birthday celebration where I didn't work.  This means we don't have the extra income to go all out like I did with the other two.  So, to keep this party budget friendly I took the following steps:
Pick a color palette that can utilize things you already have like banners, serving plates, balloons, etc.


My entire house has turquoise throughout including my kitchen, so needless to say I had tiered stands, picture frames and candles to integrate.  I also chose two basic colors to accent- gold and white.  You can't make it any easier!  I have white serving dishes, cakes stands, and picture frames already on hand.  The other advantage of having basic colors is if you do need to buy something finding those colors makes your job much easier.

I needed an ice bucket and tub for the drinks last minute and found both the Gold Ice bucket and White tin at Target on clearance.

Borrow whatever you can from friends and family!  Seriously this is the best thing you can do.  Save up your party stuff and swap with friends each year instead of always having to buy new things.  I borrowed all the banners, including the "Let's Flamingle" banner along with chalkboards and table drapes from friends and family.

Choose a theme that will be easy to acquire.  I remember one year my oldest asked for a theme that isn't very popular.  When trying to research things for the party I was finding there was very little options and what there was, was very expensive.
Flamingos and Pineapples are literally everywhere right now!  I found these flamingo serving bottles, paper straws, napkins, bar sign and party favor bags all in the Target dollar section

Make as much of your own decor as possible.  I have made back drops with streamers before for a total of $4.  For this party I decided to make a balloon arch.  I found this balloon strip on Amazon.  It is super easy and best part…reusable.  Choose a few balloon colors in different sizes and attach the big ones in every few holes.  After you've finished, tape up the arch where you want it and use these sticky dots to place the rest of the balloons, and/or other items like the leaves I did, where you like them.  It will stay for a few days so this is something you can do ahead of time.  When you're done pull the balloons out of the strip and reuse it again later.  I only used about 10 balloons from each color so I have plenty on hand for the next party.

Start planning at least a month out.  I recommend further out but I know that's not always feasible.  Giving yourself more time to watch for clearance items is always a good thing.  I planned for this party 3 months in advance and bought items as I saw them among several different trips to Target.  I found the pineapple plates and tropical leaf banner go on clearance for $2 two weeks before the party and snatched them up.

Some other ways I saved money was making my own cake.  I make cakes on the side and love trying new techniques so I decided to try the watercolor look for her cake.  If you are making your own smash cake, save time and money but using the rest of the batter and shavings from the cake to make cake pops.  This is what I did and it saved a ton.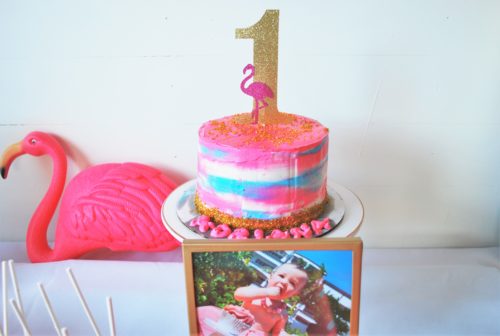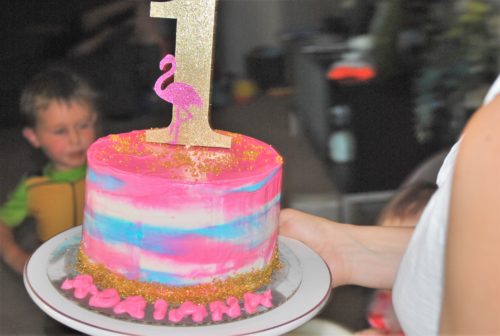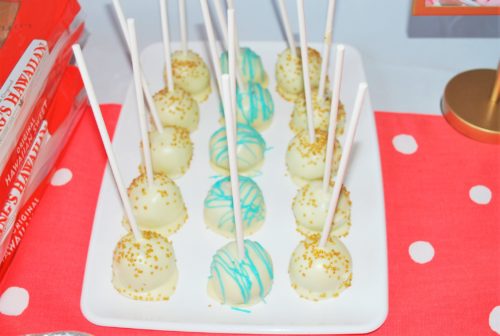 I also had my friend Shannon over at One Cut Lane make me the menu and 1st birthday chalkboard for the party.  Seriously her work is amazing!  It's cheap and easy for YOU.  Tell her what you're theme is, send in the information and she will create whatever you like.  She made the name tags for the goodie bags and water bottle wraps in addition to the others.  She sent me a pdf and I printed them off at my local Walgreens, where I found a coupon for 50% my order and 2% money back from Ebates.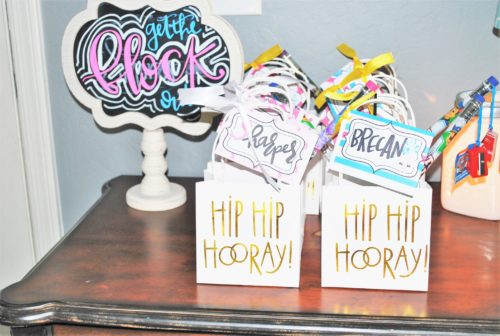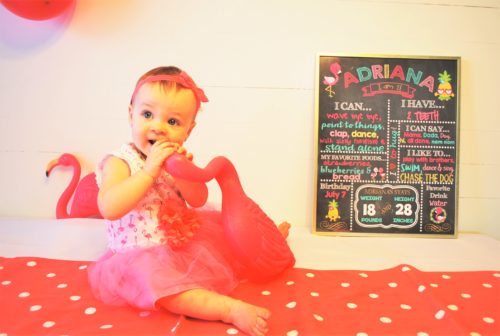 I loved the way this party turned out and am excited to plan my next one.
Happy planning!